CHINA CREATION GROUP
P.O.Box25,Xian Bell Tower P.O., Xian, Shaanxi, China P.C.710003
Tel: 86-29-87624651 Fax:86-29-87626854
WWW.CREATIONGROUPS.COM WWW.CREATIVECOUNTER.COM
Email:chinatypical@hotmail.com Email:info@creationgroups.com
Email:creationgroup@qq.com Email:chinatypical@yahoo.com
==============================================================
Creative Knitting Machine & Embroidery Machine,Brother Knitting Machine & Parts KH868 KH890 KH860 KR838 KR830 KH260 KR230 KH710 KH970,Silver Reed Knitting Machine & Parts SK280 SK270 SK840 SK160 SK166 SK860 SK160 SK155 LK150, Creative Knitting Machine & Parts,Singer Knitting Machine & Parts,Studio Knitting Machine & Parts,Passap Knitting Machine & Parts,Toyota Knitting Machine & Parts,KnitMaster Knitting Machine & Parts,KnitKing Knitting Machine & Parts,Empisal Knitting Machine & Parts, Sponge Bar,Needle Presser Bar,Needle Retainer Bar,Needles,Row Counter,Blank Card,Handy Punch,Wool Winder,Metal Stand,1x7 Adjustable Transfer Tool,Needle Pusher,Cast On Comb,1x2 1x3 2x3 Transfer Tools,Tension Unit,Cam,Level,Arm,Claw Weight,Large Weight,Small Weight,Colour Changer,Lace Carriage,Birdseye Carriage,Ribber Carriage,Main Carriage Manufacturer & Supplier.
=========BROTHER KNITTING MACHINE SERIES ============
=========SILVER REED KNITTING MACHINE SERIES ============
=========CREATIVE KNITTING MACHINE SERIES INTRO============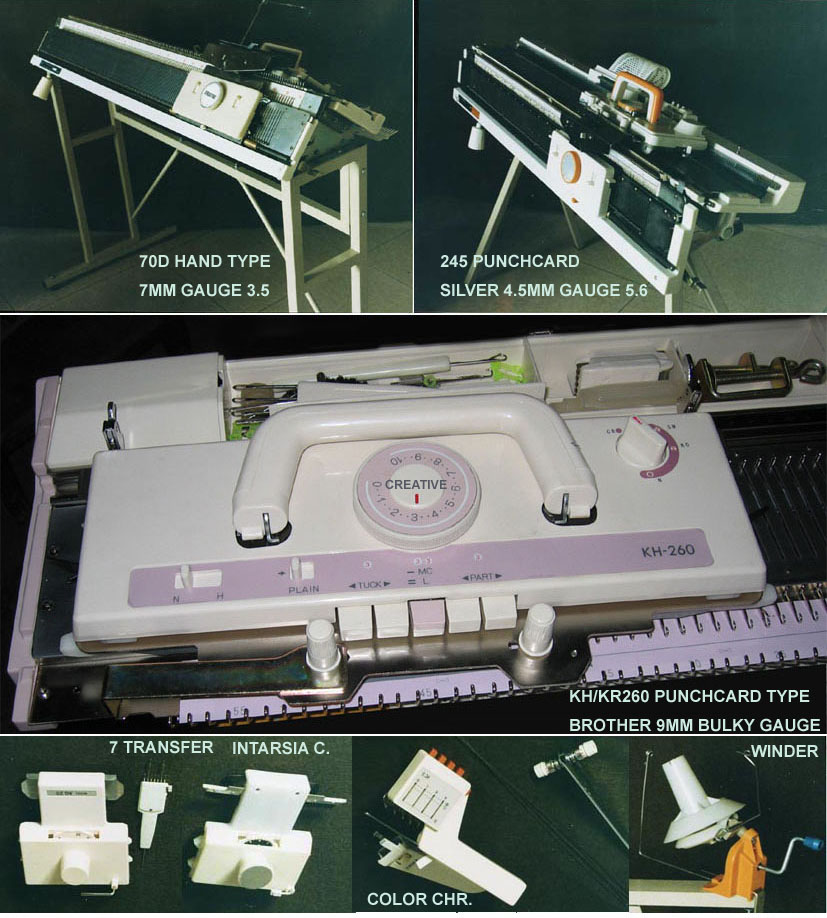 =========CREATION GROUP-KNITTING MACHINE MANUFACTURER & SUPPLIER============
Being the manufacturer of Creative Hand Knitting Machines incl.3/3.5/5.6/14 Gauge , Knitting Machine Parts incl.most parts of Brother 260/868/970 & Silver Reed SK155/160/840/860 and accessories like Row Counter,Sponge Bar ,Wool Winder & 3/3.5/5.6/G 1x7 Needle Transfer Tool etc.,we stand in this line for more than ten years.We are finding dealers in your area all the time. 11 years ago,we began from manufacture knitting machine parts & single head embroidery machine (Model101/601) till now can make Hand/Punchcard/Computerized Type of knitting machines & 1~36 head double sequin embroidery machines .We supply quality machines and services to many dealers and customers all the time in UK,US, Canada,Auatralia,Brazil and India ( 200 sets embroidery mcs were sold to India in 2003 and become the third big supplier ).Creative machine is of good quality but with much more favorable price comparing with Brother ,Silver reed,Tajima,ZSK &Tajima .Now,we are still the main manufacturer of 3~5.6Gauge Hand Knitting Machine ,Wool Winder,1x7Needle Transfer Tool 3/3.5/5.6G,Intarsia Carriage,Birdseye Carriages,etc. and 95% same code parts of Silver Reed & Brother in China .Our latest CG170 Double Bed +Stand 7MM-Mid Gauge Type is already with Built in Intarsia instead of the Intarsia Carriage.
=========CREATIVE KNITTING MACHINE SERIES INTRO============
1).CREATIVE MODEL CG170(GE63 70D) HAND TYPE KNITTING MACHINE WITH BUILT IN INTARSIA & STAND
MID GAUGE(7MM-3.5GAUGE) DOUBLE BED WITH STAND =SILVER REED SK160 (SK860 WITHOUT ELEC.)
(MAIN KNITTER+ RIBBER+STAND) 149 NEEDLES CAN PATTERN OVER ENTIRE NEEDLE BED.
ENGLISH MANUAL/PARTS CATALOG. 1.40X0.35X0.35CUBM/CTN.

2).CREATIVE MODEL JBZ/L245-2 PUNCHCARD TYPE KNITTING MACHINE
STANDARD GAUGE(4.5MM-5.6GAUGE) DOUBLE BED=SILVER REED SK280(JAPAN)/SINGER STUDIO 700 SERIES
(MAIN KNITTER+ RIBBER) 200 NEEDLES ENGLISH MANUAL/PARTS CATALOG. 1.40X0.35X0.35CUBM/CTN.
(Knitting Machine 280/SRP60N Main+Ribber) (Knitting Machine 280/SRJ70 Main+Ribber)
3).CREATIVE MODEL DBZ/L245-1 COMPUTERIZED TYPE KNITTING MACHINE WITH 6 COLOR CHANGER
STANDARD GAUGE(4.5MM-5.6GAUGE) DOUBLE BED=SILVER REED SK840(JAPAN)
(MAIN KNITTER+ RIBBER) 200 NEEDLES CAN PATTERN OVER ENTIRE NEEDLE BED. ENGLISH MANUAL/PARTS CATALOG. 1.40X0.35X0.35CUBM/CTN.

3-1).CREATIVE 4.5MM BROTHER PUNCHCARD TYPE KH868/KR838,KH860/KR838,KH868/KR850 (MAIN+RIBBER).
4).CREATIVE MODEL KH260/KR230,KH260/KR260 PUNCHCARD TYPE KNITTING MACHINE
BULKY GAUGE(9MM-3GAUGE) DOUBLE BED=SAME AS BROTHER KH260/KR 230 (SK155)
(MAIN KNITTER+ RIBBER) 114 NEEDLES. ENGLISH MANUAL/PARTS CATALOG. 1.40X0.35X0.35CUBM/CTN.

5).CREATIVE LINKER MACHINE:6/8/10/12/14 GAUGE. MAIN+STAND+MOTOR.
6).CREATIVE 1X7 NEEDLE ADJUSTABLE TRANSFER TOOL:4.5MM GAUGE,9MM GAUGE,7MM GAUGE
7).WOOL WINDER WITH SKEIN HOLDER: PLASTIC TYPE.
8).FLAT(IRON) KNITTING MACHINE:3~14 GAUGE.
9).MOST PARTS AVAILABLE: LIKE ROW COUNTER,SPONGE BAR,COLOR CHANGER,INTARSIA CARRIAGE, BIRDSEYE CARRIAGE,ETC.AS PER SAME SILVER REED/SINGER/ BROTHER CODES.

*
CREATIVE KNITTED PRODUCTS FOR EXPORT:KNITTED SHEETS,HATS,NECKLETS,BOOTS,SCARFS,MATS,SWEATERS,ETC.FOR EXPORT AS PER DESIGNMENT.
Creative CG170 7MM -3.5G -Mid-Gauge Knitting Machine with Intarsia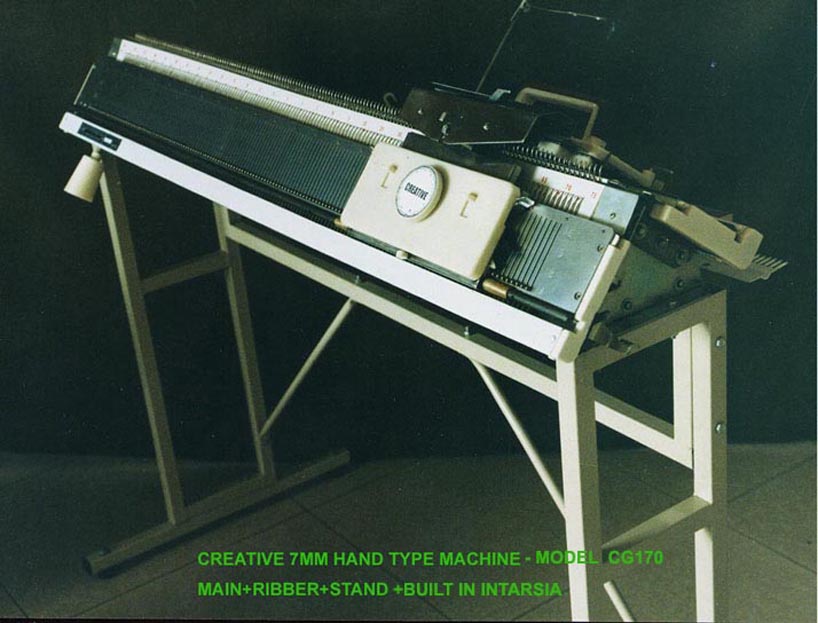 7mm mid-gauge machine
main knitter+ribber+euro stand+intarsia function.
149needles on each bed & no scale limit.
Creative CG170 Mid-Gauge knitting machine comes with built-in Intarsia for block and picture knitting - you don't need a separate intarsia carriage! A great beginners knitting machine designed to knit Sport Weight and Light Weight Worsted yarn.It knits fabric that looks just like hand-knitting. Since this is a double bed knitting machine, you can do both knitting and ribbing. The mid-gauge knitting machine makes beautiful ribbing, fisherman's ribbing, as well as circular knitting for socks, hats, mittens and more. There are 149 needles on each bed. This is enough to make a finished size 60 using DK weight yarn and there is no knitting scale limit like punchcard type with card width limit . Both carriages knit, slip, tuck and have a Hold position for maximum versatility. The ribber drops down so you can easily knit single bed fabrics with the single bed sinker plate. In addition to slip, tuck and stockinette, the main carriage also does plating. The mid-gauge knitting machine comes complete with all tools, weights, and cast-on combs (both single and double bed) needed for just about any project! The sturdy and attractive stand included with the machine has a convenient tray for storing all tools and cast-on combs. The mid gauge will accept yarns from sport weight to light-weight worsted, making it perfect for knitting hand yarn! You can also easily use four ply fingering yarn double stranded or by using the plating feeder!
Creative JBZ/L245-2 4.5MM -5.6G Standard Gauge Punchcard Knitting Machine
4.5mm standard-gauge machine
24-stitch punchcard operation
200 needles on each bed
detachable ribber
The main bed does stockinette, slip, tuck, fairisle, thread lace, knit-weaving and plating. The ribber does rib stitches, circular knits, fisherman's rib, drop stitch lace and pile stitch. Supplied with all small tools, cast-on combs, 20 pre-punched cards, claw and ribber weights and sock weight hangers. The tools fit in a storage box that mounts on the right hand side of the machine. The 245 is also available bundled with Intarsia and Birdseye Carriages and a 4-Color Changer.
Creative JBZ/L245-2 Standard Gauge Knitting Machine is a 4.5 mm standard gauge knitting with a set of punch cards used on either the main knitting machine bed and the ribber.
There are a great number of stitch types to choose from: Fair Isle (Knit-in), Single Motif, Punch Lace, Tuck, Slip, Knit Weaving, and Plating. There are 20 pre-punched cards with the machine.
The ribbing attachment comes with a complete set of weights and combs along with a manual to help you make a large variety of ribbed fabrics including ribbing, half-fisherman's rib, racked ribbing, double jacquard (preferred for afghans) and many more textured fabrics. Tubular knitting is possible with the ribber. You can make scarves, hats, socks, mittens and much more.
This machine uses a coned yarn machine knitters call "4-ply yarn". This is roughly equivalent to fingering weight hand knitting yarn, although it is usually a little finer. Knitting machine "3-ply yarn" is finer still and is used for double jacquard. A type of knitting where there are no strings on the back of the knitting because the ribber knits them into a fabric.
Creative KH260/KR260 9MM -3G Bulky Gauge Punchcard Knitting Machine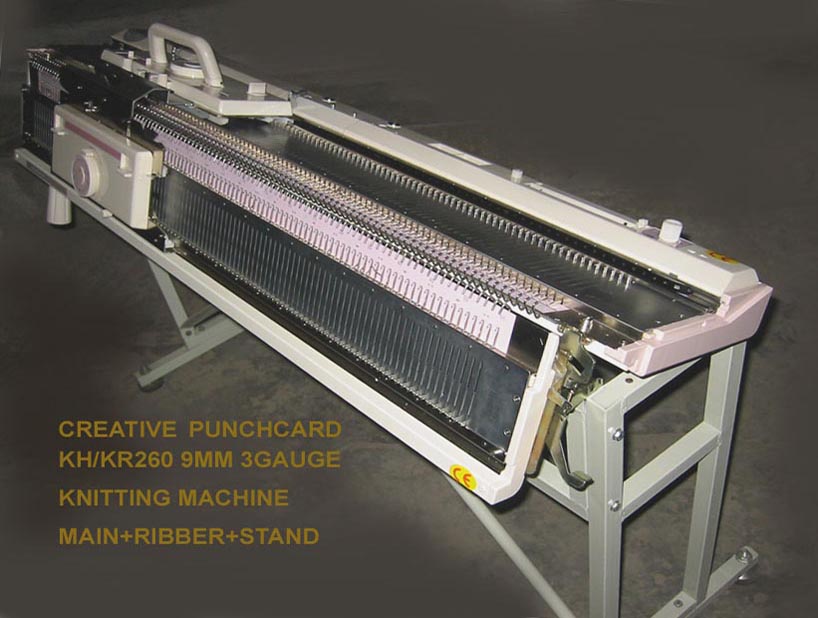 9mm bulky-gauge machine
110 needles on ribber
114 needles on knitter
24-stitch punch cards
This versatile knitting machine is designed for worsted and chunky weight yarn. It is compatible with all Brother bulky accessories. The ribber includes a D-slider for drop-stitch designs and drops down or detaches when not required. Can do rib knitting and double bed fairisle patterns. Supplied with extra needle, transfer tools, seaming needle, claw weights, crochet hook, cast on thread, knit gauge ruler, wax and holder, oil, tools and instruction book.
A bulky knitting machine knits fabric that looks just like hand-knitting , only better and faster using heavier double knitting (DK), worsted and bulky yarn. You can knit stockinet stitch and ribbed stitches when you include the ribber. However, this bulky knitting machine can also use a Punch Card to create knitting stitch patterns automatically. Place a punch card in the machine and activate it. Now you can automatically knit Thread Lace, Tuck, Slip, Weaving, Fairisle and Single Motif Isolation and more stitches. There is a basic Bulky Knittng Machine Pattern card set included or you can make your own with an optional puncher and blank cards. Bulky punch cards for this machine are 24 stitch-wide pattern repeats. 24-stitch punch cards are available from other brands of knitting machines and are interchangeable with this machine. The bulky gauge machine is a 9 mm needle pitch knitting machine. This means there are 9 mm between the needles which is wide enough to accept double knitting weight up to bulky weight yarn. Thus the name bulky.
Bulky Ribbing Attachment:
The bulky ribber is included and is also 9 mm pitch, with 110 needles. For Rib Knitting and Double Bed Fairisle patterns. Included is a D Slider used to make dropped-stitch designs. If you are not using the bulky ribbing attachment, it drops down out of the way or it can be detached and stored.Optional knitting machine stand available.
Creative Universal Knitting Machine Stand(Euro Type & Standard Type)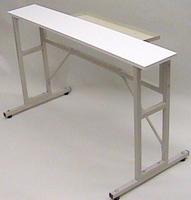 The Creative Universal Knitting Machine Stand or Knitting Machine Table will fit all of the Japanese style "clamps to a table" type of knitting machine as well as all the plastic bed knitting machines. The melamine coated table top is 8" x 48" and finished on all sides. The stand is 26" tall(Euro Type)/ 30¡± tall(Standard Type) from the floor to the top of the table top. This stand is extremely sturdy and is made of square metal tubing. It won't wobble or walk as you knit. The rubber feet keep it in position. There is a bolt on tray to hold all of your combs, tools, machine parts, oil and accessories. Illustrated assembly instructions are included. It doesn't take very long to assemble the stand.
Creative 6~14 Gauge Linker Machine Head+Motor+ Stand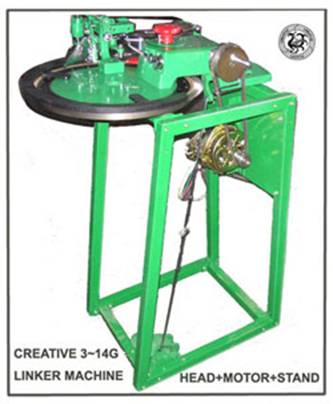 Creative 1X7 Needle Adjustable Transfer Tool for 5.6G / 3.5G / 3G,4.5MM/6.5MM/7MM/9MM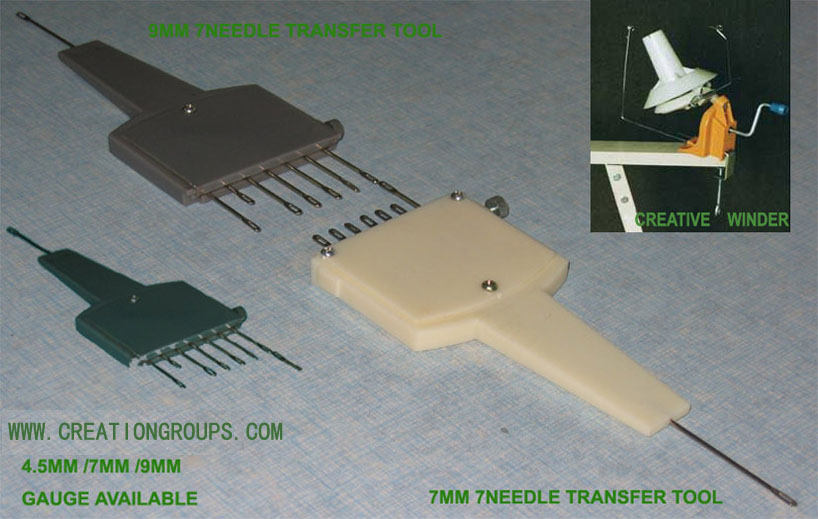 1x2 Transfer Tool,1x3 Transfer Tool,2x3 Transfer Tool ,Latch Tool & Needle Pusher 1/1,1/2-2/2,1/3-3/1 4.5mm/6.5mm/7mm/9mm
1x2 Transfer Tool,1x3 Transfer Tool,2x3 Transfer Tool & Latch Tool for Brother Knitting Machine
1x2 Transfer Tool,1x3 Transfer Tool,2x3 Transfer Tool & Latch Tool for Silver Reed/Singer Knitting Machine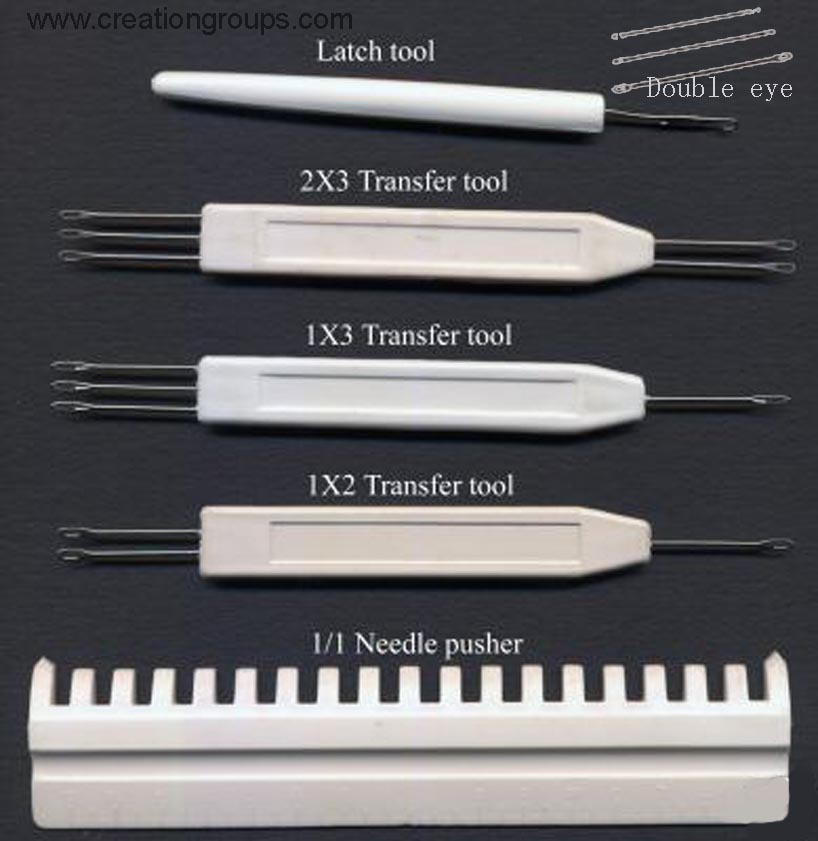 Creative Wool Winder + Skein Holder
Creative Row Counter for KH868 KH860 KH260 SK280

Sponge Bar for Standard Gauge/Mid Gauge/Bulky Guage Knitting Machine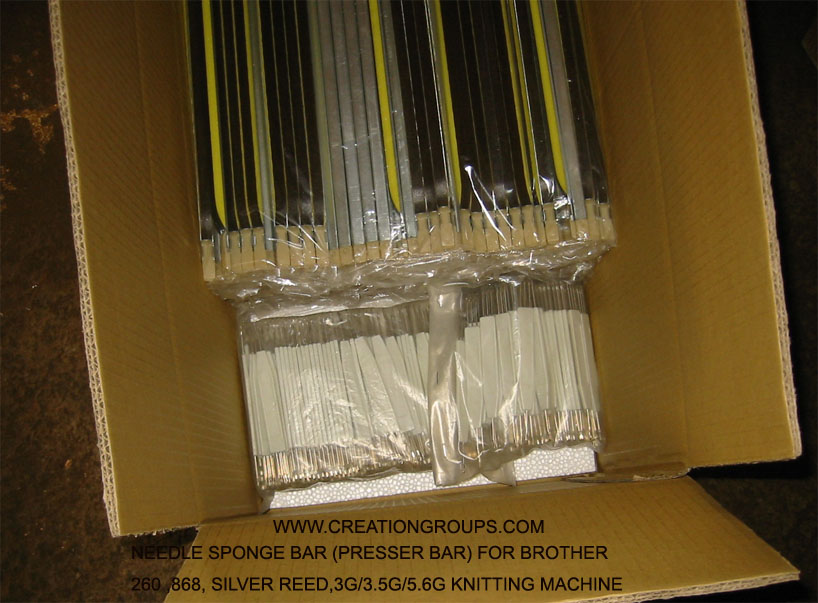 Knitting Machine £¬ Machine ¨¤ Tricoter £¬ Machine a Tricoter ,M¨¦tier ¨¤ Tricoter £¬ Metier a Tricoter, ¾Ž¤ß™C £¬ ??? ??????? £¬ brei masjien £¬ ᘿ—™C £¬ §á§Ý§Ö§ä§Ñ§é§ß§Ñ §Þ§Ñ§ê§Ú§ß§Ñ £¬ pletac¨ª stroj £¬ ÕëÖ¯»ú£¬Ã«Ò±àÖ¯»ú£¬ pletenje stroj £¬ neulekone £¬ Strickmaschine £¬ ¦Ð¦Ë¦Å¦Ê¦Ó¦É¦Ê? ¦Ì¦Ç¦Ö¦Á¦Í? £¬ k?t?g¨¦p £¬ kotogep, macchina per maglieria £¬ mezgimo ma?ina, mezgimo masina strikkemaskin £¬ ?????? ??????? £¬ maszyny dziewiarskie £¬ confec??o de malhas £¬ confeccao de malhas ,stickmaskin £¬ m¨¢quina para hacer punto £¬ §ä§â§Ú§Ü§à§ä§Ñ§Ø§ß§Ñ§ñ §Þ§Ñ§ê§Ú§ß§Ñ £¬ ?rg¨¹ makinesi £¬ §ä§â§Ú§Ü§à§ä§Ñ§Ø§ß§Ñ §Þ§Ñ§ê§Ú§ß§Ñ £¬ peiriant gwau £¬ Knitting Machine Instruction £¬ Instruction ¨¤ tricoter £¬ manuel d'instruction £» m¨¢quina de tricotar £¬ maquina de tricotar,m¨¢quina de tejer £¬ maquina de tejer, m¨¢quina que hace punto, maquina que hace punto, m¨¢quina de tric? £¬ maquina de trico, m¨¢quina knitting, maquina knitting.