CHINA CREATION GROUP
P.O.Box25,Xian Bell Tower P.O., Xian, Shaanxi, China P.C.710003
Tel: 86-29-87624651 Fax:86-29-87626854
WWW.CREATIONGROUPS.COM WWW.CREATIVECOUNTER.COM
Email:chinatypical@hotmail.com Email:info@creationgroups.com
Email:creationgroup@qq.com Email:chinatypical@yahoo.com
===============================================================
Creative KH860/KR838 4.5MM -5.6G Standard Gauge Punchcard Knitting Machine
SAME AS BROTHER KH860/KR 838

(MAIN KNITTER+ RIBBER) 200 (272)NEEDLES.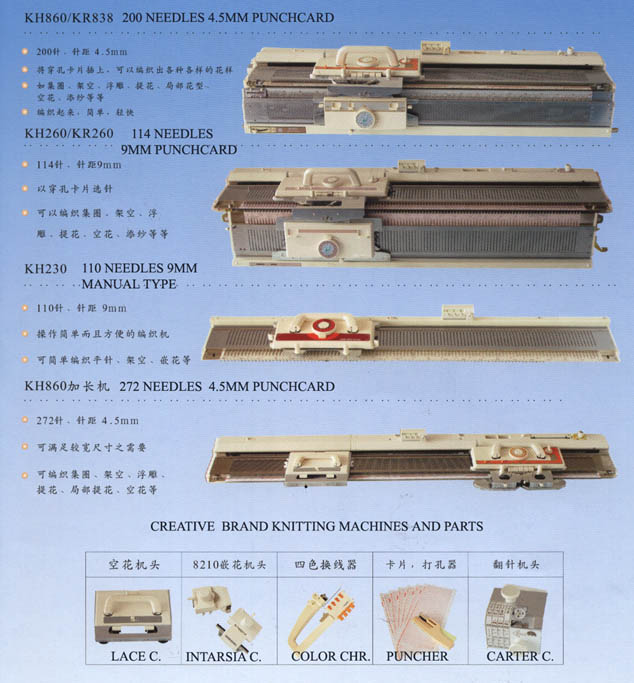 4.5 mm standard-gauge machine
272 needles on Special Knitter
200 needles on knitter
24-stitch punch cards
Specs:
1.Gauge: 4.5 mm(5.6 G)
2.Number of needle: 200(272)pcs
3.Weight: 14kg (30.8 lbs)
4.Measurement: 1058x262x105mm ,1.40X0.35X0.35cm/OUT CARTON
5.Needle selection range: 30 needles
6.Capability: SKIP STITCH, MULTI COLOUR SKIP STITCH, TUCK STITCH, MULTI-COLOR TUCK STITCH, WEAVING PATTERN, WOVEN MOTIF PATTERN, FAIRSLE(JACQUARD) PATTERN, FAIRSLE MOTIF PATTERN, DOUBLE LENGTH PATTERN, LACE PATTERN AND FINE LACE PATTERN, LACE AND FINE LACE MIXED, ISOLATED LACE PATTERN, PLATING, CHANGE OF MAIN YARN AND PLATING YARN, PLATED TUCK STITCH PATTERN


Features:
Stitch count: 200 Stitches. Needle Pitch: 4.5mm. Power: Manual Selector: By Punch card. It has a 24 stitch pattern repeat. Come with a set of 20 cards. Knitting Patterns: Flat knitting, Tuck Stitch, Slip Stitch, Fair Isle, Partial Fair Isle, Embossed, Punch lace, Tuck Stitch Punch lace, Plating, and Tuck Stitch plating weaves

This machine allows you to do a wide variety of knitting including lace, tuck, plating, slip stitch, weaving and Fair Isle designs.

20 pre-punched pattern cards included or choose the optional blank card/plier punch to create your own beautiful and unique designs.

Now we can make larger size of knitting!

Easy operation and fast knitting speed makes user finish the panel shiftly. Enclosed standard 20 patterns card and their knitting instruction in the manual. Features in easy operation and 24 needles range needle-to-needle selection suitable for home-based knitter.
Included Accessories:
Needle Bed
K Carriage
Sinker Plate Complete Set
Lace Carriage (Y Carriage)
Yarn Tension Unit
Cast-on Comb Assembly
Extension Rail (L)(R)
Punch Card Set
Motif Knitting Cam (24 Needles)
Motif Knitting Cam (M)
Motif Knitting Cam (L) (R)
L-Point Cam for Needles
Table Clamp
Claw Weight
Latch Tool
Transfer Tool
Needle Pusher
Plating Yarn Feeder Assembly
Hand Brush
Special Knitting Machine Oil
Yarn Wax with case
Plastic Snap
Cast-on Thread
Crochet
Plain Needle
Carriage Lock
Tapestry Needle
Sponge Bar/Sponge Bar Strip for KH868 KH860 KR850 KR838 in needle bed.
Recommended Accessories :
4-Colour Changer Brother KH-C820A,KRC830
4-Colour Changer Brother KRC900
6-Colour Changer Brother KRC1000E (KH970)
Intarsia Carriage Brother KA8210 for Brother all Brother 4.5mm knitting machines:
KH820, KH830,KH836, KH840, KH860, KH864, KH868, KH881, KH890, KH891,KH892, KH900, KH910, KH930, KH940, KH950, KH965.
Brother Lace Carriage for KH820 KH830 KH836 KH840 KH864 KH881 KH860 H868 KH890 KH891 & KH892
Creative KH860 KH868 ,KR830 KR838 KR80 Punchcard Knitting Machines is same as Brother KH860 KH868 ,KR830 KR838 KR850.
Brother Standard Gauge Knitting Machine Ribber KR850 & KR830

FUNCTION

KR850

KR830

Number of needle

200

Needle Pitch (mm)

4.5

Gauge in needles per inch

5.6G

1x1 Needle Selection

Yes

No

Position of slide lever

3 positions

2 positions

Combination

KH830-KH894, KH900-KH970

Other available optional accessories optional can be used:
KA-8210 Intarsia Carriage KHC-820A single bed color changer
KRC-840 KRC830 KRC900 4 coluor changer KRC-1000E 6 coluor changer
KE-100E Motor Drive unit (KH970) KG-95 Electric Garter Carriage

(KH970)
Creative Knitting Machine & Embroidery Machine,Brother Knitting Machine & Parts KH868 KH890 KH860 KR838 KR830 KH260 KR230 KH710,Silver Reed Knitting Machine & Parts SK280 SK270 SK840 SK160 SK166 SK860 SK160 SK155 LK150, Creative Knitting Machine & Parts,Singer Knitting Machine & Parts,Studio Knitting Machine & Parts,Toyota Knitting Machine & Parts,KnitMaster Knitting Machine & Parts,KnitKing Knitting Machine & Parts,Empisal Knitting Machine & Parts Manufacturer & Supplier.Sponge Bar,Needle Presser Bar,Needle Retainer Bar,Needles,Row Counter,Blank Card,Handy Punch,Wool Winder,Metal Stand,1x7 Adjustable Transfer Tool,Needle Pusher,Cast On Comb,1x2 1x3 2x3 Transfer Tools,Tension Unit,Cam,Level,Arm,Claw Weight,Large Weight,Small Weight,Colour Changer,Lace Carriage,Birdseye Carriage,Ribber Carriage,Main Carriage, ,
Knitting Machine £¬ Machine ¨¤ Tricoter £¬ Machine a Tricoter ,M¨¦tier ¨¤ Tricoter £¬ Metier a Tricoter, ¾Ž¤ß™C £¬ ??? ??????? £¬ brei masjien £¬ ᘿ—™C £¬ §á§Ý§Ö§ä§Ñ§é§ß§Ñ §Þ§Ñ§ê§Ú§ß§Ñ £¬ pletac¨ª stroj £¬ ÕëÖ¯»ú£¬Ã«Ò±àÖ¯»ú£¬ pletenje stroj £¬ neulekone £¬ Strickmaschine £¬ ¦Ð¦Ë¦Å¦Ê¦Ó¦É¦Ê? ¦Ì¦Ç¦Ö¦Á¦Í? £¬ k?t?g¨¦p £¬ kotogep, macchina per maglieria £¬ mezgimo ma?ina, mezgimo masina strikkemaskin £¬ ?????? ??????? £¬ maszyny dziewiarskie £¬ confec??o de malhas £¬ confeccao de malhas ,stickmaskin £¬ m¨¢quina para hacer punto £¬ §ä§â§Ú§Ü§à§ä§Ñ§Ø§ß§Ñ§ñ §Þ§Ñ§ê§Ú§ß§Ñ £¬ ?rg¨¹ makinesi £¬ §ä§â§Ú§Ü§à§ä§Ñ§Ø§ß§Ñ §Þ§Ñ§ê§Ú§ß§Ñ £¬ peiriant gwau £¬ Knitting Machine Instruction £¬ Instruction ¨¤ tricoter £¬ manuel d'instruction £» m¨¢quina de tricotar £¬ maquina de tricotar,m¨¢quina de tejer £¬ maquina de tejer, m¨¢quina que hace punto, maquina que hace punto, m¨¢quina de tric? £¬ maquina de trico, m¨¢quina knitting, maquina knitting.